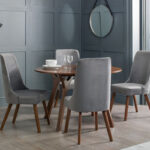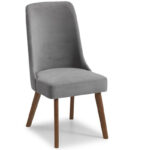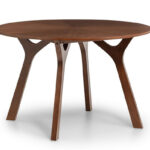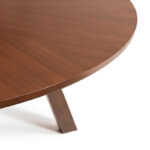 Huxley Dining Set
120cm D x 120cm W x 75.5cm H
The Huxley round dining table is a contemporary design, with a traditional influence. Bringing warmth to any dining room, perfect for a mix of modern or traditional decor. Crafted from walnut veneer, this rich coloured dining table excels in stability. Accompanied by 4 Huxley Dining Chairs.The Huxley Dining Chair features a glamourous curved back, with modern tapered walnut legs. Finished in dusk grey chenille fabric, this dining chair adds a touch of elegance to any dining area
Crafted from Walnut Veneer,ensuring long lasting durability.
Finished in a rich walnut colour, adding warmth to any home.
Providing a contemporary style with a traditional influence, perfect for a wide range of décor.
Glamourous curved back for added comfort.
Modern walnut tapred legs
Finished in a dusk grey chenille fabric, suitable for a  range of décor.